Save 15% with code MERIT15 at checkout
Merit Aid: What It Is and How to Get It
An online course with The New York Times bestselling author Ron Lieber
You probably don't know enough about how and why colleges offer enormous discounts to even the most affluent families. Readers of my book, "The Price You Pay for College," write to me often about my revelations around these so-called "merit aid" awards. Some use my advice to save tens of thousands of dollars. Many others are angry about these opaque scholarship schemes and want to know more. Based on questions from families like theirs – and yours – I've created this course.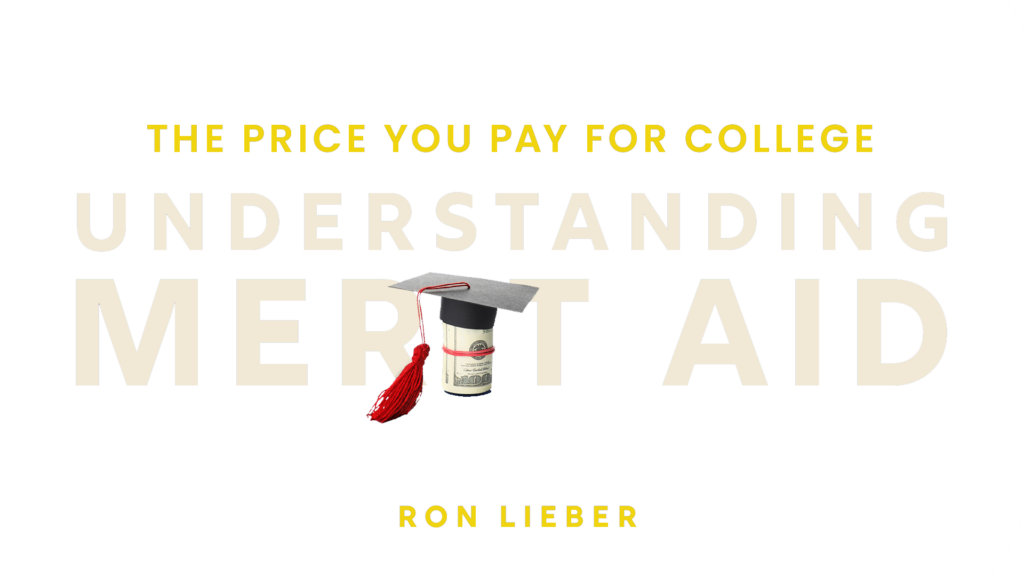 OK, but what is merit aid anyway?
Merit aid is a bit like a grant or scholarship, because you don't have to pay it back. Schools subtract it from the list price after you get in, when they tell you what they would ask you to pay to attend.
Most schools offer merit aid, and students whose parents have six or seven-figure incomes often get a lot of it.
Merit aid is different from need-based aid. It's often more about what a high school senior has done – and can do for a college – than about parents' income or assets.
Some schools give merit aid based on pure academic firepower. Others give it to students with special skills or characteristics. And many do both things. Still others give it to everyone – but don't tell anyone that it doesn't actually make you special.
Most schools won't tell you before you apply how much merit aid you might get. But there are little-known ways to get estimates or make educated guesses.
Some schools use merit aid to essentially buy a group of incoming freshmen that has higher grades or test scores than those who might otherwise attend without a big price cut. Others use it because people with the ability to pay a school's full price may not think the degree is worth that price. Some schools use merit aid for both reasons.
Merit aid is also known as "merit scholarships," "presidential scholarships," "academic awards" and other names. Schools use whatever term they think will make students feel best about themselves and most likely to matriculate – without asking for an even bigger discount.
How Merit Aid Became So Prominent – and So Little Understood
The Five Kinds of Schools that Offer Merit Aid
What Schools Say About Merit Aid – and What They Don't
Little-Known Sources of Merit Aid Data
Early Decision Isn't Binding, and Merit Aid is a Big Reason Why
How to Ask for More Money
This course has four modules and 13 lessons. None of the lessons take more than about ten minutes.
It's perfectly fine to digest the course in chunks, and you can go back at any time to rewatch lessons; study up on strategy at each stage of your college shopping process; and download exercises and guides that are only available here and not in my book or my New York Times columns.
About Ron's merit aid advice:
"I thought colleges had all the power in the application process. Your insights helped me increase the merit aid for my son by $20,000 over four years, in just a ten-minute phone call with the school. Pretty good return on investment!!"
Connecticut parent, Drexel University, Class of 2026
"Just wanted to say a big THANK YOU. Based on your advice, we decided to appeal the financial aid award on the basis of merit. They replaced loans and work study with a four-year merit award, saving us $18,000 over four years."
Oregon parent, Lafayette College, Class of 2026
"Your advice yielded an extra $20,000 over four years!"
California parent, Rensselaer Polytechnic Institute, Class of 2026
About "The Price You Pay for College":
"Just finished your terrific course (in one sitting!). I thought it would be a good refresher of what I already had learned, but of course, I learned so much more. You definitely make it easier and more palatable."
California Parent, Bryn Mawr College Class of 2025
"Masterly . . .represents an extraordinary achievement: It is comprehensive and detailed without being tedious, practical without being banal, impeccably well judged and unusually rigorous."
Daniel Markovits, Yale University, reviewing for The New York Times Book Review.
"A book that is packed with data and yet manages to be presented in such a beautiful narrative that is warm, engaging, compassionate, and informative. Ron will hold you by the hand, by the heart, and by the head."
Julie Lythcott- Haims, author of "How to Raise an Adult"
About Ron
Ron Lieber is the Your Money columnist for The New York Times, where his work has received the Gerald Loeb award – business journalism's highest honor – three times. He is the author or co-author of three New York Times bestsellers, including "The Price You Pay for College" and "Taking Time Off," a book about gap years.
Ron lives in Brooklyn with his wife, Jodi Kantor (a fellow New York Times reporter) and his two daughters. He received need-based aid in middle school and high school at Francis W. Parker School in Chicago and in college, at Amherst, where his mother flew out each year to appeal his family's aid package. Ron speaks frequently to audiences of all sizes about what to pay for college and how the system got so complicated.
FAQ